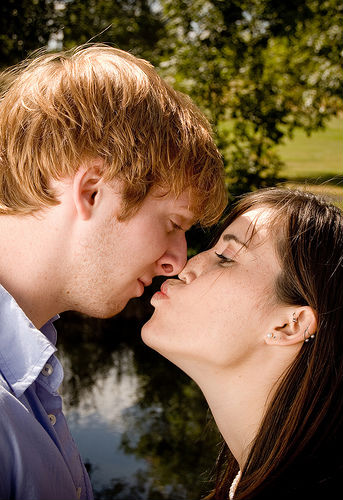 In case you didn't know, marriage ain't easy. But praise the Lord that there are ways to be a better husband to your wife.
I used to think that I was the most patient and caring person on planet Earth. No seriously, it's the truth. I really thought I was more patient than most people and that I had the sort of servant's heart that would make any man green with envy. But then something happened that smacked me back to reality. What was it, you ask?
Well, I got married!
Once married, I slowly (okay, maybe not so slowly) began to realize that my wife occasionally does some things that annoy me. And apparently, I do some things that annoy her as well. Go figure.
Simple Ways to be a Better Husband
Patience is a virtue, a spiritual gift, and marriage is one area in my life where I began to realize how gigantic some of my weaknesses truly are. Two of those weaknesses being "patience" and "pride."
I want to be a better husband, really I do, but a lack of patience and sinful pride often trip me up. It's a problem for both husbands and wives.
It's strange, but God did not give me my wife, Kathy, to wait on me hand and foot (I thought that requirement was in our wedding vows but apparently the preacher left it out for some reason. LOL). As the husband, it's my job to love my wife. We are partners in this endeavor called marriage, and that means that the husband needs to be active with physically demonstrating to his God-given wife that he loves her.
It's not easy, but God never said it would be easy. We husbands often forget to do this, we're lazy, and many times we just don't see how bad we're failing at being leaders in the home. But praise God that He is the God of second chances! God has provided us with countless ways to be a better husband to our wives.
As a disclaimer, I get nervous about writing articles like this? Why do I tremble so, you ask? The reason: Because I suspect that my wife is going to demand that I practice what I preach (and blog). Fortunately, that's a very, very good thing in my journey to become a better husband. Kathy is my helper, my partner, and the one whom God gave me to make us become one flesh.
So, yeah, I have some work to do. And I want to do a better job each and every day at showing that tangible love to my wife. And that's why I plan to (Umm, hope to) write more articles like this in the future. Because being open and transparent about my weaknesses and failures as a man and husband will ONLY help me to become a better husband, as well as a stronger and more godly man after God's own heart.
So let's cut to the chase, shall we?
Here are 3 simple ways to be a better husband and show tangible love to your wife.
1. Verbally tell her that you love her.
It's amazing how many men are afraid to share their feelings. It's quite startling, however, to think about how many men never share their feelings with the one person in this world he should be most comfortable with. Men, our wives need to hear the words, "I love you." No, it's not enough for us to assume she already knows we love her. In fact, if you haven't told her lately–or have never told her before–it is likely that she doesn't think you love her it all. Men, go to your wife this very day, turn her to face you, and say to her, "I love you." This is the first step in the happy journey of ways to be a better husband.
2. Do the dishes and other household chores.
I hate doing the dishes. It was my chore when I was a little kid and I've never liked it. I was a dishwasher for many of my jobs when I was in high school, too. In fact, one of the reasons I don't like to cook is because you create a lot of dirty dishes when you do it. Therefore, I'm more of a microwave chef, myself. However……….that has little to do with why I REALLY don't do the dishes as a married man. If I want to be open, honest and transparent with you (and I do), I have to admit that I don't do the dishes and other household chores because I'm not loving my wife like I ought to love her. Doing things around the house shows your wife that you care for her. Yep, I know. Men, it seems weird to me as well. But that's how our wives look at it. So get off the couch and pick something up, slacker!
3. Plan ahead, take charge, and lead!
Does the following conversation sound at all familiar to you when you think about the times you and your wife have gone out on a date?
Husband: So, what do you want to do tonight?

Wife: I don't know, what do you want to do?

Husband: Whatever you want to do is fine with me.

Wife:  How about Chinese food?

Husband: Sure, I'm up for that? Which Chinese restaurant?

Wife: I don't know, just pick one.

Husband: Can you find a good one on the internet for us?
Do you know what I think of when I read this? I think: Lame! And then, sadly, I also think: Been there, done that. Argh! To not plan ahead for a date with my wife is just plain lazy, it shows my lack of desire to lead as the head of the household and…men…it shows that we don't care enough about our wives to think ahead or go out of our way to truly love her like Christ loves the church. We each need to figure out ways to be a better husband than that.
So there you have it. Three simple ways to be a better husband and show your wife that you both care about her and love her.
Verbally say to your wife, "I love you."
Do the dishes and other chores around the house.
Plan ahead, take charge, and lead as a man ought to lead!
QUESTION FOR COMMENTING BELOW: What are some more ways to be a better husband, or why don't we men love our own wives like we ought to?