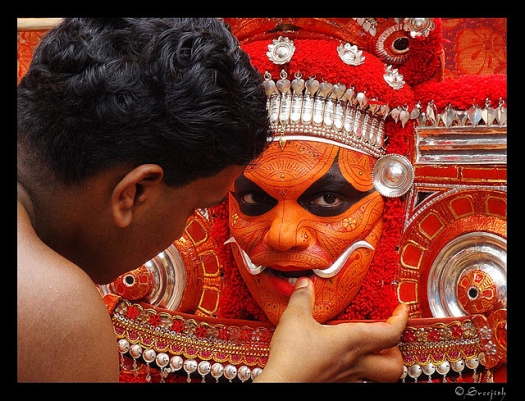 Have you ever noticed how "religious" human beings are?  Entire cultures, governments, and families are shaped around "religion."
Most people believe in God.  Actually, most people believe in god(s), and for the sake of arguement, let's just agree on the fact that most people around this floating ball of dirt don't believe that we evolved from cosmic goo, that one day we decided not to be monkeys any longer, grew an opposable thumb, and stopped swinging from trees.
Most people don't believe that garbage.
Actually, I saw a recent survey done around America where surveyors asked people whether or not they believed that they really evolved from monkeys.  Although interesting…but certainly not a shocker…the vast majority of people stated the fact that, no, they don't truly believe in the theory that they evolved from monkeys.
Even though we are bombarded with the theoretical teachings of evolution and that there is no god, the fact remains…once they leave the educational institution, they just don't buy it.
People believe in a deity.  We are wired for worship.  We were created to worship the Creator, yet the vast majority of the world suppresses that truth in unrighteousness and worships a deity made in the image of man, of four-footed animals, and creeping things (think of the Egyptians who worshipped the dung beetle.  Yes, dung.).  Although immensely sinful and foolish, we simply cannot overrule the inherent notion that we are religious creatures and, though we deny the truth of God and His revealed character, we will always fill in the gap and insert a god(s) that we feel more comfortable with.
Even atheists are religious.  They worship themselves, sitting on the throne of their own life, closing theirs eyes to the reality that one day soon they will understand that God is more real than they could have ever imagined.  And then it will be too late.
I believe in God.  I believe in the God of the Bible.  Most of the people I know believe in the very same God of the Bible.  But what I also find interesting is that most people have different thoughts about the God of the Bible, what they believe God is like, what He is not like, if He is even a "He" or should be also thought of as a "she," etc, etc, etc.
Ever noticed that no one thinks their beliefs or interpretations of Scripture are wrong.  There's never anything wrong with the theology of the one staring back at us in the mirror.  We are so prideful some times.
It is strange that God has revealed Himself in Holy Scripture and yet we would still rather have a God we are "more comfortable" with, and so we exchange the truth of who God is, as found in Scripture, and define Him in other ways so that He is more likable.  More convenient.  More up-to-date.  A God we can easily put in a box and carry around in our pocket or purse.  How do we do that, you ask?  Well, here's just a few ways from off the top of my head:
My God would never send people to Hell.  God is love, after all.
I believe that God wants us to love everyone unconditionally, regardless of what they've done or what they believe, and that we should never, ever judge.  ("Judge not, lest you also be judged.")
My God would never choose people to save in eternity past and send others to Hell if they don't "believe."  I don't understand it, therefore I don't believe it.
I think that women should be able to serve as pastors in a church.  Yes it is God's Word, but it was 2,000 years ago.  Times change, and we've learned a few things since then.
I think that God can be found in other religions and that the Bible is not the sole authority.
I think that church is a place for unbelievers, not just genuine Christians.  We should try to attract non-Christians to our church worship services.
Maybe you don't agree with me regarding some of these, but maybe you do.  But that's the thing.  We just can't agree!
But I do think there are some essentials about who God the Father is.  Below you will find a few paragraphs that I put together about who I think God is.  Let me know your thoughts.  Do you agree or disagree with anything I say below?
[stextbox id="custom"]I believe that God the Father, the first Person of the Triune Godhead, is the Creator and sovereign Ruler of all things (Genesis 11-31; Psalm 103:19; Romans 11:36; Ephesians 3:9), and that He orders and disposes all things according to His own purpose and grace (Psalm 145:8-9; 1 Corinthians 8:6).  As the only absolute and omnipotent Ruler in the universe, He is sovereign in creation, providence, and redemption (Psalm 103:19; Romans 11:36).
I believe His fatherhood involves both His designation within the Trinity and His relationship with humanity.  As Creator He is Father of all humanity (Ephesians 4:6), but is the spiritual Father only to repentant believers (Romans 8:14; 2 Corinthians 6:18).  He has decreed for His own glory all things that come to pass (Ephesians 1:11).  He continually upholds, directs, and governs all creatures and events (1 Chronicles 29:11).  In His sovereignty He is neither author nor approver of sin (Habakkuk 1:13; John 8:38-47), nor does He abridge the accountability of moral, intelligent creatures (1 Peter 1:17). He has graciously chosen from eternity past those whom He would have as His own (Ephesians 1:4-6); He saves from sin all who come to Him through repentant faith in Jesus Christ; He adopts as his own all those who come to Him; and He becomes, upon adoption, Father to His own (John 1:12; Romans 8:15; Galatians 4:5; Hebrews 12:5-9).[/stextbox]
QUESTION:  What do you think about all this?  Does it matter what we believe about God or not?  Do you think God cares one way or another?
* Photo credit: sreeji.. (Creative Commons)