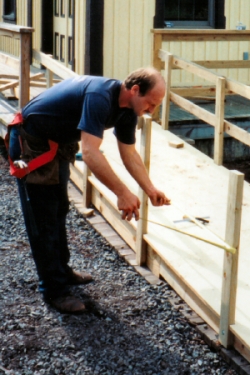 There was this rundown, ramshackle-of-a-house in my neighborhood.  It was an eyesore for everyone who drove by it.  Including me.
I was simply thrilled when a local homebuilder purchased it a few years back.  His plan was to fix it up and then flip it for a quick profit.  His workers soon tore down most of the old shell and began framing new walls for the structure.  The work looked promising.  Unfortunately, when the housing market tanked shortly thereafter, the homebuilder ran out of money and the half-built house stayed half-built for another two years.  It was even more of an eyesore at that time, if you can believe it.
Thankfully, it didn't remain half-built forever.
Someone eventually erected a fence around the property and put up a large sign that contained an architect's rendering of what the future home would look like.  It was a beautiful rendering.  A few weeks later new workers showed up at the site and began finishing what the laborers from two years ago had left undone.  Today the home looks to be about ninety percent complete and we're looking forward to the day it gets finished once and for all!
There are a lot of Christians who are like that old house.  They're spiritually rundown, fatigued, and practically an eyesore to look at.  Yet when someone comes along with encouragement, investing their time and energy into that dilapidated Christian's life, the eventual result will be beautiful rendering of Christ-likeness.
Have you ever driven by a jobsite where construction workers were building a house?  The process of biblical discipleship is somewhat similar to that.  The workers pour and level the foundation, but only after taking time to prepare the soil by first digging deep trenches.  Once the foundation has been laid and leveled, other laborers then begin framing the walls and install other features of the structure according to the designer's master plan.
Such work is similar to the ministry of building the dwelling place of God (the Body of Christ).  The apostle Paul wrote that genuine believers have been "built on the foundation of the apostles and prophets, Christ Jesus Himself being the corner stone, in whom the whole building, being fitted together, is growing into a holy temple in the Lord, in whom you also are being built together into a dwelling of God in the Spirit" (Ephesians 2:20-22).
Did you know that genuine Christians are like bricks that God fits together?  If you're a believer then you're one of God's bricks.  Every one of us is sculpted and permanently set into the mortar of God's abiding love.  As each soul turns from their sin and is saved by His compassionate grace, the edifice grows into something that God considers "holy."  Together, with each individual brick, the divine Mason places us side by side—as He sees fit—and calls us His dwelling place.
His house.  His home.  His Temple.  His Bride.
I don't know about you but I think that's outstanding!