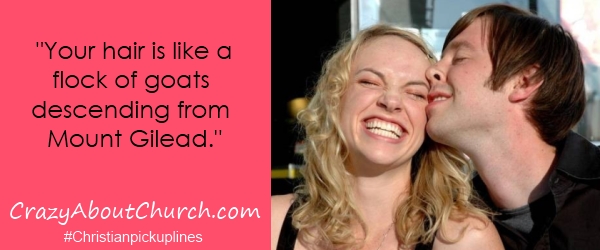 One of my most popular articles here on Crazy About Church was the one I wrote on Christian Pick Up Lines (click here to read that post). It gets well over 100 unique readers every day from Google searches alone. Since this is the case, I've decided to provide a follow-up article that provides even more cheesy Christian Pick Up Lines. (Because…and let's face it, ladies…you can never hear too many pickup lines, right?)
"On first dates, I always take girls to get BBQ ribs. It feels the most biblical, considering they came from one."
Beware When Using Christian Pick Up Lines
Just a quick disclaimer. I'm a married man and haven't tried these on any ladies out there, particularly my wife. And the reason for that is that I'd prefer to remain married. So be forewarned. Using these cheesy Christian Pick Up Lines could be detrimental to your dating and marital relationships.
And so here we go…
My parents are home, wanna come over?
I didn't believe in predestination until I met you.
Is it hot in here or is that just the Holy Spirit burning inside of you?
I was reading my Bible the other day, and I was wondering if you know what Paul meant by "Greet one another with a holy kiss?"
So I was reading the book of Numbers the other day and realized I don't have yours.
You float my ark.
I know its absurd, but every time I walk towards you, it feels like I'm being lead to Bethlehem.
My spiritual gift is my good looks.
I went on a beach mission but all I ended up doing was mission you.
Is this the transfiguration? Because you are glowing.
I used to believe in natural theology, but since I met you I've converted to divine revelation.
If you say no, I will rip out my hair and my beard.
Bathsheba had nothing on you.
Mark Driscoll takes up 35% of my iPod memory.
Bible-Gateway happens to be my homepage.
Your hair is like a flock of goats descending from Mount Gilead.
How would you like to join my Purpose Driven Life?
I believe one of my ribs belongs to you.
I'm a Proverbs 32 kind of guy and you're a Proverbs 31 kinda woman.
Let me sell you an indulgence because it's a sin to look as good as you do.
Me. You. Song of Songs: the remix.
The Bible says to bring all our requests to God. I've prayed…and here you are.
When I read Philippians 4:8, I think about you.
Look, you're nearly 22. Most Christians are 3 years into marriage by now. Just settle for me.
You make the Queen of Sheba look like a hobo.
Click here to read my other article on Christian Pick Up Lines.
CONFESSION TIME: In the comments section below, write down any Christian pick up lines you have ever used…or that someone used on you.