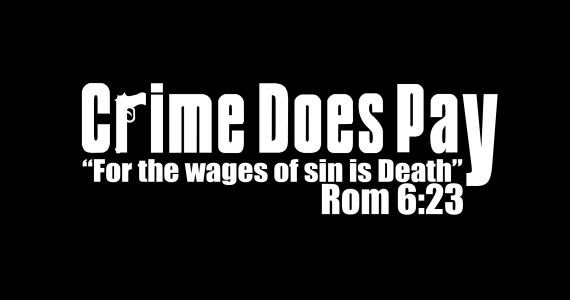 Wondering what God's will for your life is?  Maybe God's will for your life is that you don't live much longer.  Ever thought about it?
Obviously, I have no idea whether or not God's desire for you or me is that we die any time soon.  (I hope it isn't, by the way.)  But every one of us will die, one way or another.
The apostle Peter died.  But what I find simply fascinating is that God planned it, told Peter about it beforehand, and explained that it was going to be painful.  It was to be done for God's glory.  Here's what John 21:18-19 tells us Jesus said about it:
"Most assuredly, I say to you, when you were younger, you girded yourself and walked where you wished; but when you are old, you will stretch out your hands, and another will gird you and carry you where you do not wish."  This He spoke, signifying by what death he would glorify God. And when He had spoken this, He said to him, "Follow Me."
That's it folks.  Live for the glory of God.  Preach the gospel in season and out of season.  Die, and be forgotten.  And do it all for the glory of God.
Question: What do you think about that?
God's Plan Occasionally Hurts
God's revealed will—for both you and your local church—is that you would be His "witnesses both in Jerusalem, and in all Judea and Samaria, and even to the remotest part of the earth" (Acts 1:8).
The mandate of radical discipleship is crystal-clear.  Jesus Christ's great commission was not a suggestion or even a sanctified recommendation.  The issue is simply whether we'll be obedient or disobedient to the commands of our Lord.  Sadly, the church in Acts chapters 2-7 chose convenience rather than unyielding allegiance, and so…in His sovereignty…God called their bluff.
After debating in a synagogue filled with unbelieving Jews, Stephen was dragged away, brought before the Council and required to give a defense of the charges put against him.  Some lying Jews then induced other Jewish liars to accuse Stephen of blasphemy and of speaking against both the Law and the customs that Moses handed down.  Upon gazing at the man who had a face like that of an angel, the high priest asked, "Are these things so?"
Rather than respond with a simple "No," Stephen preached a sermon.
He ended his plea by flipping the accusations onto the Council and actually indicted them with the sin of blasphemy, of breaking God's Law, and of murdering the Righteous One.  Apparently the Council didn't appreciate Stephen's opinion because they began gnashing their teeth at him.
Crying out with a loud voice, they covered their ears and rushed at him with one impulse.  As they drove him out of the city, they fulfilled Stephen's accusation.  Indeed, they were just like their fathers.
This heated event sparked the inferno of religious persecution against the early church there in the city of Jerusalem.  And make no mistake about it.  God was behind it all.
Front Row Seats To Murder
No matter how many times I read the final verses of Acts chapter seven, I never cease to be both shocked and perplexed about how God peeled away the heavens just to get a front row seat to watch His servant get murdered.
For me, above all other passages in holy Scripture, this one stands as the trademark text proving that God was not only fully aware of the persecution of His people, but that He was also in complete control over it.
As the Council gnashed their teeth and rushed Stephen out of the city, Scripture says,
"being full of the Holy Spirit, he [Stephen] gazed intently into heaven and saw the glory of God, and Jesus standing at the right hand of God; and he said, "Behold, I see the heavens opened up and the Son of Man standing at the right hand of God" (Acts 7:56-57).
As the sinners relentlessly hurled their deadly stones, Stephen called on the Lord, saying, "Lord Jesus, receive my spirit!" (Acts 7:59).
Picture in your mind's eye all that was taking place at that very moment.
Stephen was being throttled, pressed down and thrown to ground.
Dozens of angry men were standing over him, gnashing their teeth, spitting with furious rage, and snatching fist-sized rocks from the dirt.
One by one, they began launching their missiles at a defenseless man.
During the final moments of his agony, Stephen gazed into the sky and saw "the glory of God, and Jesus" looking down from Heaven. (Acts 7:55).
As each stone cut, lacerated and smashed into the bones of his face, head, neck, shoulders, back and chest, the bloodied Stephen encouraged his murderers to look up into the sky, because right over their heads was none other than "the Son of Man standing at the right hand of God" (Acts 7:56).
Notice: Stephen didn't beg God's rescue, and God was not offering any.  Stephen did not plead for divine clemency, and God did not grant him any.  Stephen didn't demand vengeance upon his enemies, and God tendered none of that either.
God the Father and God the Son were watching the proceedings, making sure everything happened the way it was supposed to.  Every detail was accounted for.  Nothing outside of God's sovereignty was occurring at that moment.
The omnipotent Lord of lords is seen here in this passage mercifully ensuring that the religious persecution did not go even an inch further than it was supposed to.
God has a wonderful plan for your life. — I know this is little saying is used fairly regularly in evangelism, but it just isn't biblical.
Question:  Do you have any problems with this?
* Image credit: Lawrence Suss (Creation Swap)